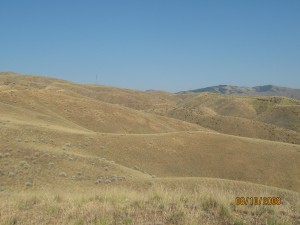 Activity Type:
Mountain Biking
Trail System:
Ridge to Rivers (Boise, ID)
Level of Difficulty:
Blue – More Difficult, technical rating is primarily for Hulls Gulch. This ride requires stamina and above average skill to be enjoyable.
Mountain Range or Region:
Boise Front
State:
ID
Country:
USA
Total vertical gain:
2,250 ft.
Distance:
18 miles.
Equipment Used:
Jamis Dakar XAM-1 full suspension bike.
GPS Data
:
GPS Data:

GoPro video highlights of the Freestone Ridge DH (fast with big rollers):

GoPro video highlights of the Hulls Gulch DH (narrow canyon with some technical areas):

Ride Details:
This ride is my new Boise Foothills favorite. It is a great distance / time combination for me, (18 miles and about 2 hours). It also has some great terrain variety. Half of the total vertical climbing occurs at the front end of the ride and features an uphill on Sidewninder. The real reason that I like this ride is the speed/technical mix that I get in the downhills. The Freestone Ridge DH is big, fast, and full of good rollers. You get that reward after the initial sustained climb. Then at the end of the ride, you finish off with a ride down Hulls Gulch. This is more of a technical ride, compared with most of the other downhills in the Foothills. It is narrower, has more obstacles, and one short section that many riders dismount on, (see photo).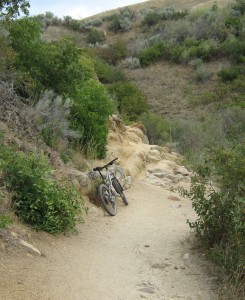 Watch for uphill traffic in Hulls Gulch. Freestone only has one blind corner, and not a lot of uphill traffic anyway.
Here's what can happen when you get to aggressive on the rollers. I took this spill on the Trail 4 section between Sidewinder and Fat Tire.