"Do I really look like a guy with a plan? You know what I am? I'm a dog chasing cars. I wouldn't know what to do with one if I caught it! You know, I just…DO things". The Joker in The Dark Knight.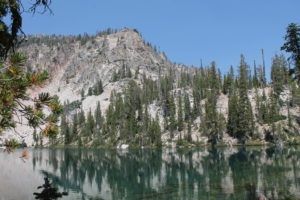 It is Friday afternoon, about 5PM of Labor Day Weekend. We're sitting in the "parking lot" that is more commonly known as Highway 55. As we sit in this traffic jam just south of Horseshoe Bend, it is now painfully obvious to family members travelling with me, (and my son), that once again they are being sucked into one of our schemes. I somehow have the reputation for "planning" out these great adventures, but in reality "I just…DO things". Of course, my wife has known this for a long, long time!
So the traffic jam isn't all that bad. As soon as we make it through the bottleneck that is Horseshoe Bend's main street, with it's 25 MPH speed limit, we are off at highway speeds, headed north. Traffic is heavy, but flowing smoothly. Once we turn off at Banks and head up towards Stanley, via Garden Valley and Lowman, the traffic drops off to almost nothing. At the junction in Lowman, we expect to possibly hit heavier traffic on Highway 21 from Boise's east side. But we only pick up a couple of vehicles that exit within a couple of miles.
Now my hopes are getting pretty high that our "plan" of getting a campsite at Stanley Lake may actually come to fruition! Oh, how hopes are dashed. All campsites are full, it is getting dark and we have a 2 and 4 year old in tow. We start driving up and down "21", but all the campgrounds are either full or are "closed for the season". Who in their right mind closes campgrounds for the season on Labor Day Weekend?! At one point the lawns next to the mercantile store in Stanley looked fairly inviting.
Just as darkness was descending on us, we managed to snag the last campsite in the Casino Creek campground about 5 miles down river from Stanley. This would be our base camp for the weekend.
Campsite Scenes
Smoky and dusty and an outhouse with a door that didn't lock, but the kids had a blast. Air mattresses, (the big ones), make tent camping much more enjoyable. Yes, I know I'm a wimp. There are lots of young families in the campground and the "neighbors" have two boys that make friends with my 4 year-old granddaughter. The 2 year-old is on his first camping trip. He loves the dirt and seems oblivious to the cool, brisk mornings.
Playing at Redfish Lake
Getting some sun, paddle boarding and enjoying the scenery at Redfish Lake.
The Fishing Expedition
On this day the guys split off from the group and head for the fishing expedition. Anticipating potential toddler melt-downs, the girls head back to Boise after we all break camp. (Oh, for the Ann, Nicole, Tori and the toddlers there is a hot springs stop along the way)! The guys fishing trek is a 10 mile round-trip with a "typical" Sawtooth approach to a high mountain lake. It's actually the steepest "fishing hike" I've ever done!
A Ride Around Bogus Basin
On Monday I met up with one of my good friends, Rich Pagoaga, and his friend, Andy. We had a leisure ride on the 10 mile "Around the Mountain" up at Bogus Basin. This was a great way to help relieve some of the soreness from the fishing expedition the day before. We finish the ride on "Berm Baby Berm", a DH flow trail that is fun, even for those of us who no longer put a lot of "air" between our tires and the ground. (BTW, I am very impressed with what Bogus is doing with the resort).
So, there you have it – our Labor Day Weekend…       Just doing things!