The Tetons Are Calling
"I told you so"! That is what Ann said, laughing, as I called her from my smartphone on the Garnet Canyon trail as we headed back from our latest Teton adventure. So what was it that I had done to elicit that response? In this instance, it was the warning that going to the Tetons in October, during a big storm cycle would probably not provide the optimum skiing experience. In fact, she was doubtful that we would really get any type of skiing in. As it turned out, her dire prediction was pretty much spot on. Of course, that didn't deter me for two reasons:
1 – I always tend to imagine the best possible outcome and that is the sweet nectar that draws me to the mountains when they are white. 🙂
2 – In my defense what I really wanted, almost as much as the skiing, was a good hike with full gear on; a "Training Day"!
The opportunity to head up Garnet Canyon opened up a few weeks ago, when Jackson Negri messaged me and said he, (and maybe a buddy or two), was planning on doing something in the Tetons around mid-October. He invited me to join them. The only weekend that I had open in October was the 15th, so we decided on that Saturday. I checked with a couple of my sources and it looked like the timing might be very nice. The big storm that had hit in early October had dropped over a foot and a half up high, and the thinking was that it would be well settled and probably fairly safe by the 15th.
The problem was that the next big storm hit too soon. On Friday, the upper sections of Garnet Canyon received several inches of fresh snow. As we headed up from Lupine Meadows trail head early Saturday morning, it was in a steady rain. Our initial plan was to make it up to the Middle Teton Glacier and then determine if we needed to stay on some lower angle stuff, or go up high and get some challenging powder turns in. For the prospect of powder, the soaking that we were getting was enough to overcome the elements and slog on up the trail.
Watch Your Step
The adventure began to take a different twist as we rounded the corner into Garnet Canyon. We had already transitioned from rain to light snow, but once we hit the canyon, the intensity and the depth of the snow increased dramatically.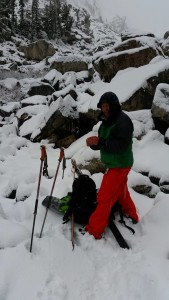 By the time we got to The Platforms, there was several inches and the snow was coming down hard. I had hoped that the prior snow would have melted some, at least up to The Meadows, and I also had hoped that the snow line would have been up around 10K, instead of the 8K that we encountered. The adventure quickly took on a more serious tone and it was more of a mission. Traveling the boulder fields that are prevalent from The Platforms up to The Meadows is not "a walk in the park" even under the "easy" conditions of a mid-summer hike. But now with 6-18″ of snow it became a tedious exercise of skill and patience. Each step had to be carefully probed and measured because of the potential to slip or step into a gaping crack that was covered by the snow.
We finally made it up to The Meadows camping sites, and reassessed the situation. If we were to climb on up to the Middle Teton Glacier, we would not only have a steep climbers trail to negotiate in knee/thigh deep snow, but there were also boulder fields to be negotiated that were every bit as treacherous as what we had just came through. The other option, (Plan B), was to climb on up to the Cave Couloir and get some turns in there. (The "Cave" is a permanent snow field, so the fresh snow on the old base would have probably been decent skiing). We opted for "Plan B", and also determined that we could skin up and move in and around the boulders at this point.
The Retreat
We had made it to the base of the "Cave", but Jackson was struggling with his ankle that he had broken earlier this year. It was swelling in the ski boot and producing some intense pain. He opted to "park it" there where he had "eyes on" me and I was going to head up and check out the stability and then maybe climb up a ways and get in some turns. The entire time that we had been in the canyon, the storm had just continued to intensify, so I had already given up on the idea of getting much "real vertical". Then the deal-breaker occurred within a couple of minutes of separating; I heard and saw a large amount of snow, ice and rock come crashing off of some of the cliffs that frame in the couloir. At that point, I knew it was not wise to continue and turned back. The snow had been decent for skinning, but the shark teeth lurking just below the surface were too numerous to simply rip skins and ski back down.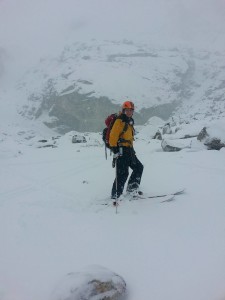 Our improvisation, which turned out to be quite successful was to leave the skins on, but lock in the heel piece. This allowed us to carefully "ski" back down to the camp sites, eat some lunch and transition back into hiking gear.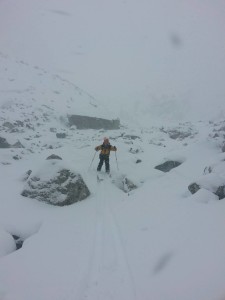 Is Anybody There?
The hike out was easier than the slog in, mainly because we were committed to retracing our steps with excruciating accuracy. This was not simple, due to the amount of snow and wind that in some areas had all but covered up our tracks coming in.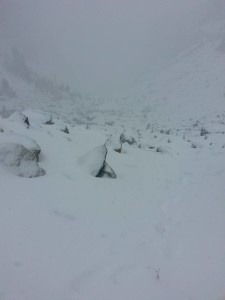 Other than a few hardy, (foolish), souls who were headed out for a Teewinot climb at the same time as we started, we had not seen another human the entire day. When we got back down to The Platforms we began to discuss the odds of running into anyone else on the trail that day. The answer was revealed almost as soon as we came out of the canyon and hit the switchbacks down off the mountain. We could see a couple of tracks of hikers that had gotten to that point and then turned around. Shortly after that we saw them a couple of switchbacks below us. Next we ran into 3 "tourists" on the way up, one in sandals. In the end we probably saw 10-15 other people on the trail as we came out that afternoon. The storm had finally started to ease up a bit, especially as we exited the canyon.
So yes, Ann was correct. It was not the right timing for a ski outing. But, as a "Training Day", my rationalization is that it was quite the success. We did around 4,000 vertical and about 10 miles round-trip. I found some of the muscles that had not been used as much this summer. And, in spite of the pain and suffering, or maybe because of it, Jackson and I had a great time!
Final Thoughts
For me this should be stating the obvious, but Ann is pretty good at sorting through all of the pluses and minuses and using good old intuition to know when the adventure is likely to be more of a training day than a GoPro highlight reel. If you are lining up to join me you may want to check in with her to see if we are talking about a "GoPro" type of adventure, or a "Training Day"! 🙂
Education and training are life-savers, if we learn and apply those principals. Knowing all of the danger signs to look for, where to look, and how to respond is key to traveling safe in less than ideal conditions. I don't claim to be even remotely close to being a "guru", but I know that the things that Jackson and I have learned through formal training and knowledgeable partners aided us in staying safe.
In the boulder fields, our ski poles were invaluable in assisting with our safe passage. Before each and every step we took, we were able to "probe" the snow to know if it was covering a boulder, solid ground or a hidden crack!
In life, the difference between success and failure is sometimes razor-thin. Sometimes we find ourselves in boulder fields where the dangers are hidden and disguised. It pays to be patient, thoughtful and use the "tools" that we have been given to move through these difficult situations.
Hope all your training days are positive. Have fun and be safe!!!