There was a time when I was convinced that the need to have a multi-ski quiver was totally unnecessary.  In the grand scheme of things, owning more than one pair of skis really is a luxury that certainly isn't a necessity in life.  At some point in my life, I crossed that line where skiing has become somewhat of an obsession, and my disposable income is such that I'm not placing me and my family's well being at risk by indulging myself with a couple of extra pairs of skis.  So in spite of my former thinking, the rationalization has kicked in and I now find myself possessing a multi-ski quiver.  If you find yourself in similar circumstances, or you've simply decided you want a "quiver", here are some things that you may want to consider as you pursue a strategy of having different skis for different circumstances.
Timing
Unless you have won a small lottery, don't mind large amounts of credit card debt or just have a ton of cash laying around, I recommend a patient approach.  This is a multi-season process, not something you do in a few months.  I spend a fair amount of time researching my purchases and it has taken me several years to migrate from my one-ski quiver to where I am today.
| | | | |
| --- | --- | --- | --- |
| Ski | Years | Seasons Skied | Quiver Size |
| Hart Hornet GS | 1969-70 | 2 | 1 |
| Rossignol Strato 105 | 1971 – 1986 | 16 | 1 |
| Rossignol 3G Kevlar | 1987 – 1995 | 9 | 1 |
| Rossignol Viper | 1996 – 1999 | 4 | 1 |
| Rossignol 9x | 1999 – 2000 | 2 | 1 |
| Rossignol Race Carver | 2001 – 2004 | 4 | 1 |
| Salomon Crossmax 10 Pilot | 2005 – 2009 | 5 | 1 |
| Atomic Super G WC Race | 2010 – 2011 | 2 | 2 |
| Rossignol Scratch Brigade BC | 2010 – | 8+ | 2 |
| Salomon Scream 10 Pilot | 2013-2017 | 5 | 3 |
| Rossignol S6 Cabellaro | 2012 – | 6+ | 3 |
| Dynafit Manaslu | 2013 – 2014 | 2 | 4 |
| Dynafit Grand Teton | 2014 – | 4+ | 4 |
| Rossignol Soul 7 | 2015 – | 3+ | 5 |
| Rossignol Radical FIS WC | 2017 – | 0 | 5 |
I leveraged the example of my grandfather Feuz, (he was an excellent horse trader) to assist me in my journey.  I haven't hesitated to buy used equipment to get started, and then sell, trade and upgrade as I found additional resources.  Selling off unused sporting goods was also a great way to generate some extra cash to acquire what I needed.  Basically, I did a lot of "horse trading" to get where I am today.
Skiing Preferences
How and where do you like to ski?  If you only really do one thing, whether that's groomers, backcountry, or terrain park, then you probably don't need a multi-ski quiver.  Evaluate where you spend your time.  What type of snow do you ski in?  What type of terrain do you seek out?  The answers to these questions will lead you to the type of ski you need.  In short, what is your skier profile?  Here is my profile:
I am definitely into the backcountry scene and ski mountaineering. (15 – 30 days per year)
I love powder, BUT I rarely get a chance to ski deep powder in the resort, (12+ inches).
The two ski resorts that I frequent the most are Bogus Basin (season pass holder) and JH (3-10 days/year)
I prefer steeps and off-piste, but I spend plenty of time on groomers, where I love speed and carving – in that order.
Equipment
Based on the above profile, here is the make up of my current ski quiver:
Backcountry ski setup
:

Dynafit Grand Teton 182cm 105 underfoot.  Dynafit bindings and Dynafit Zzero4 boots.  I selected this setup because the ski is great in powder, yet stable enough for spring mountaineering excursions.  Without spending huge amounts of additional money, it is also one of the lightest weight setups one can get into.  When you are a middle-aged, weekend warrior like myself, then you put a premium on weight reduction for the uphill.  (But I won't go so far here as to sacrifice my need for speed on the descent)!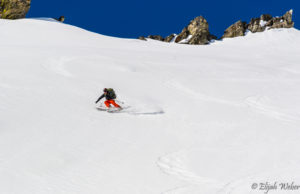 Powder ski setup
: 

Rossignol S6 Cabellaro 186cm 110 underfoot.  Rossignol Axium bindings.  (I'll talk about boots later).  This is the 2nd oldest ski in my quiver,(skied since 2012).  I use this as my "big mountain powder ski".  Two things to note here:  First, this ski is somewhat narrow by today's standard for a pure powder ski.  Second, it has a traditional camber, with what Rossignol refers to as their "rocking chair effect".  This is an "old school" big mountain powder ski, but it floats nicely even on the deep days. The main thing to note here is that because I don't have the luxury of spending lots of days in "bottomless powder", I haven't felt the need to go with one of the new super wide skis with reverse camber.  I've had these skis in 29 inches of fresh powder at Snowbird and a few "deep" days at JH. And I loved every minute of it.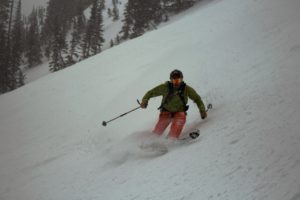 All-mountain ski setup
: 

Rossignol Soul 7 180cm 106 underfoot.  Rossignol Axium bindings.  On first glance, one would think this ski might be very similar to the S6 Cabellaro, but it has the rocker design on the tip and tail with traditional camber, mid-ski.  This ski has a much shorter turning radius then the S6 and it does very well in tight spaces, like the treed and brush areas that we have here at Bogus Basin.  If I had a one-ski quiver today, this would be it.  This ski is great for all of the off-piste stuff that I do. It loves crud and is a blast in powder.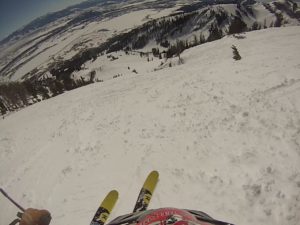 Speed and carving setup
: 

Rossignol Radical FIS WC GS 183cm 65 underfoot.  Rossignol 150 racing binding with race plates.  This is my latest addition to the quiver.  It is actually a brand new 2014 version of Rossignol's world cup GS ski.  For those days, (or partial days) when I want to stick to the groomers, this is my ski.  No temptations to go off-piste with these bad boys!  I looked long, and hard at various recreational skis for my "groomer/carver" ski, but ultimately I kept coming back to this ski because of my style and the potential ski conditions that I encounter here at Bogus Basin, which is where I will mainly be using this ski.  I ski a fast, aggressive GS style – no short radius turns for me.  I wanted a ski that was very stable at higher recreational speeds, (50mph+).  We also have several days, (and nights) around here where the "groomers" have gotten soft, and then, we will see temps drop and conditions become "very firm".  I wanted a ski that was torsionally very stiff and will handle these conditions.  That lead me away from the recreational skis and over to the "racing" ski where I can be aggressive and set an edge in firm conditions.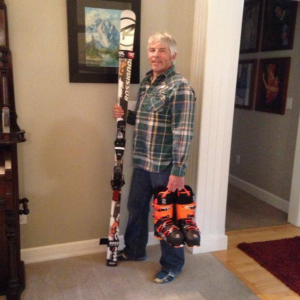 Backup / loaner setup
: 

Rossignol Scratch BC 185cm 95 underfoot.  This ski has been "Mr. reliable".  It has been my all-mountain ski and at one time, was my backcountry setup with the G3 Onyx AT binding.  It now has a mix & match set of bindings and I will use it as a spare, and a loaner to friends/family members.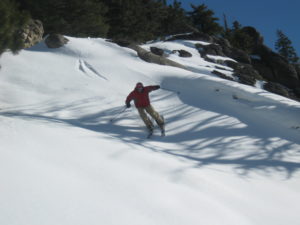 Boot setup
: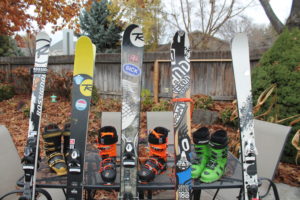 With a multi-ski quiver, of necessity this will demand a multi-boot quiver.  Because the backcountry setup has the Dynafit AT binding with a pin system, the required boot must also be an AT boot.  I went with the Dynafit Zzero4 Green Machine because it was the lightest weight boot that I could still afford, and it had enough stiffness to handle steep, aggressive terrain.  My existing alpine boot is an older Rossignol Power 9 boot that has a high flex index, (in the 130+ range).  Although I'm not aware of any specific studies on boot flex correlating to knee injuries, I've become convinced that this boot contributed to my ACLs over the past several years, especially the one from last winter.  I noted that the Dynafit boot has a flex index of 90.  Even in super steep and challenging terrain, these boots provided the control that I needed.  As a result, I decided to look for an all-mountain boot with a more forgiving flex index of 90-100.  I wanted one that had the walk/uphill mode and was targeted at my foot dimensions.  My research lead me to the 2017 Lange XC 100.  I have yet to ski in this boot, but it has a great feel and I'm excited to try it out.  I definitely plan on using it with my Powder and All-mountain skis.  I will try it out with the new GS skis, but if I need to match them up with a higher flex index boot, I may end up going back to the older Rossignol Power 9 boot when I'm on the GS skis.  This boot was built for the expert/recreational racing crowd.
Summary
The impetus for this write-up resulted from a question that was posed on one of my Facebook posts.  The actual equipment that I have in my quiver is not really that important in the context of a recommended approach for building a quiver of skis.  The key is to evaluate how and where one spends their time on skis.  It is important to recognize that having a multi-ski quiver will most likely result in a corresponding need for multiple boots, and ski poles, and, and, and…  My final recommendation on this topic is to have a plan and be patient.  OK, one more "first world problem" solved!  Have fun with your quiver.  🙂