I made new friends, I had fun (kind of), and we made it home safe to our families and loved ones. As many of you know who have read my trip reports, I refer to these three things as being a key to a successful adventure in the mountains. I picked this up from one of the Exum guides that I ski with, Aaron Dahill, and I'm sure he picked it up from one of his buddies or mentors. It is a truism and something to live by, but the middle portion of this got tested slightly this past Saturday.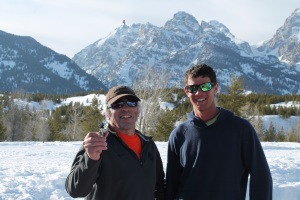 I have been trying to get to ski the South Teton for a couple of years now, but the conditions, schedules and circumstances had never really lined up. The peak was starting to look promising for early March. Both of the Exum guides that they were trying to line me up with had job and other conflicts during the last couple of weeks, but then Dan Corn had an unexpected job situation come up that put him back in Jackson for a week or two in early March. We determined that Saturday, March 7th would be a great day for an attempt.
I left work a bit early and headed for Jackson on Friday evening, got to bed at 10PM and was up at 4AM for a 5 o'clock meeting with Dan at the Bradley/Taggart Lake parking lot. We were headed out at 5:30AM for the long grinding skin up to the saddle at the head of the South Fork of Garnet Canyon, from there it is a "short" bootpack up the NW Couloir to the summit ridge of the "South". My trail style is kind of like some of the horses that we used to have on the V-V Dude Ranch in Bondurant, (Mike comes to mind most prominently). I am somewhat of a "plodder", slow and steady, but I will get there. Seven hours later, we hit the summit and I was super stoked to be skiing down one of the classic Teton routes, the SE Face. I'll let the video tell the story of what happened next.

I believe that is the first time I've had to bleep out one of my videos, but I must say, at that moment I was not having any fun! Also, the "rock" that I though my ski hit was actually the sound and feel of the binding snapping off as I came down on the turn.
Dan thought he had a solution that might work, but we didn't want to risk it on the steep pitches of the SE Face, so the only thing we could do was hike back up over and down the NW Couloir to a point that we felt safe to try his "experiment". It involved the use of one of the beefiest orange strap thingies I've ever seen. After some major effort and one early failure that made us realize we needed to "lock in" the toe-piece, we successfully skied back out of Garnet Canyon and back to the vehicle.
The "fun" wasn't in the actual skiing, for the most part it kind of sucks in the canyon, but in teaming up and figuring out how to overcome a very real set of problems. Getting down off of a 12K+ mountain without a functioning binding presents a real challenge. We didn't know if the strap would hold, or how long it would hold, so my strategy was to ski as much as possible on my right ski. I also made sure and kept back in my stance the entire way. It worked, but it wasn't pretty. So, in a sick sort of a way, that was the "fun" of this trip – overcoming a pretty big challenge and not having to resort to just putting the skins on and slogging the whole way out.
From a practical standpoint, I will ALWAYS have the beefy orange strap in my winter ski pack from now on. I am also convinced that we made the right decision to take the "safer, easier" route down. However, I do believe that if we had been too far down to hike back up safely, this setup would have worked to get me down the mountain. As I progressed down the canyon I tested it by applying more stress and it held up well. The video is not pretty, but it contains some shots of what kind of skiing I was able to do using the "fix". Dan took some photos and I will update this TR with some of those when I get them.
I am now looking forward to getting back up on top of the "South" and skiing one of those classic lines, (with no breakage incidents), as soon as the stars line up again for the attempt.
Video of skiing with the fix. Not much to watch here. I mainly just posted it for posterity. Someday I can tell my grand-kids, "see in the old days we skied that stuff just strapped in" – Oh wait, my dad is already telling me that. 🙂