It's not often that you see a couple with 8 decades of living and 6 decades of marriage.  It is even rarer when these two events occur within 2 months of each other.  This fall mom and dad will hit that sweet milestone of turning 80 years old and being married for 60 years.  I was asked to come up with a memory to share as we celebrate these events.  I could not come up with "1" just memory, so here is my shortlist:
Birthdays, and more specifically, birthday cakes are a fond memory that I have of Mom.  Here are a couple of her really cool creations.  By the way, as far as I'm concerned she was trendsetter for this tradition that is popular today!
Mom was the original "soccer mom" – only in our case it was the "ski mom".  I remember many fun times, and some not so fun times driving to and from Jackson in this classic station wagon that pre-dates the mini-van.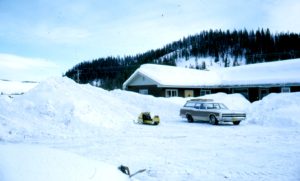 This is a scary memory of the time that Mom and the girls "went over the edge".  Although this was a traumatic event for her, Dad and us kids, as I look back it makes me realize how physically and emotionally strong she has always been.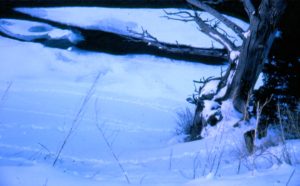 I used this next group of photos to illustrate my memories of Mom's love of landscaping, gardening and of course, flowers.  These first two photos bring back one specific set of memories – The summer long pocket gopher battle that ended with the lawn almost being blown up.  That event brought Mom running out of the house!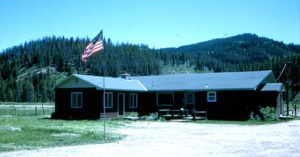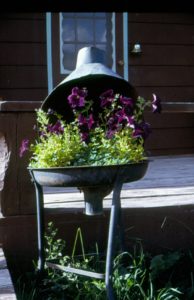 I know that Mom doesn't like this next photo, but if you take the next four photos, it tells the "rest of the story".  If you look at the second photo, you see that it is shot on the same day.  These were shot shortly after moving into the new home on the Cokeville ranch.  Notice the lack of landscaping, (some of the "lawn" was still being cut with the swather).  Then look at the last two photos of a family reunion a few years later.  Notice the flowers, the shrubbery, the manicured state of the whole lawn.  My memory is of Mom not only directing most of that effort, but doing most of the work along the way.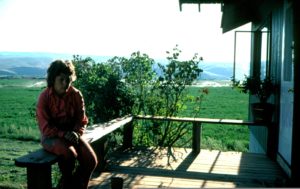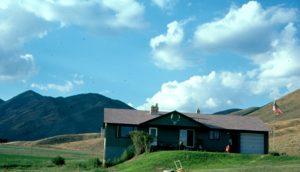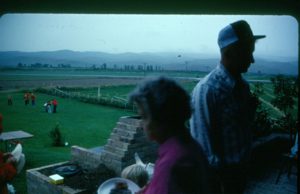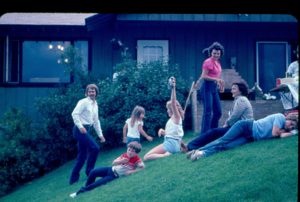 I don't have a specific memory of the events surrounding this photo, (I may not have even been there), but it brings many fond memories of tagging along with Dad, (and Gary / Dave) on all of these cool hunting adventures.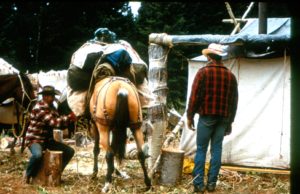 I remember this round-up with Dad, because I think it was the first time that I remember that it was just Dad, Dillon and I that did the whole thing.  For some reason, I don't think Gramp Feuz was there on this one, which seems strange.  And Dad was beginning to give us more responsibility.  In fact, he was mainly in the background, taking photos of the action and "allowed" Dillon and I to take the lead roles.  This was a cold, but fun morning.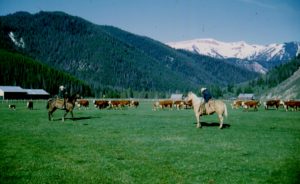 In conjunction with the hunting trips, I remember that Dad usually only had, at most, one horse available for Dillon and I.  But that didn't matter to us.  We were always just excited to chase around like a couple of bird dogs.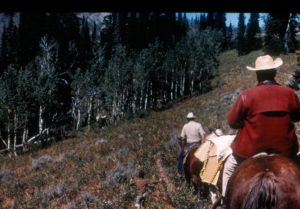 I don't remember very many family camping trips, but I do remember this one.  It was a great time, which included some good fishing and adventuring up in the area of the original homestead.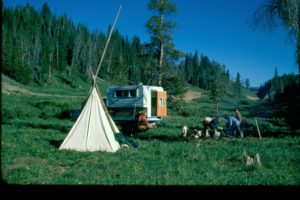 I remember this event with Dad.  Originally it was a "bad" memory, but it has since transformed into a good memory that I draw inspiration from.  At the time I cursed him for introducing me to "the uphill" on skis.  Now I'm grateful, and I love the "uphill".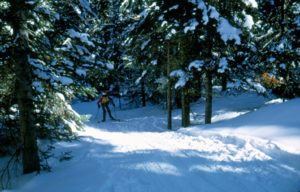 OK, I have no recollection of this photo.  It is here to illustrate my next memory.  In the Hoback, Dad had a hay business that required hiring a group of college-age kids each summer to buck bales.  I have lots of good memories from these days, but one that struck me as I was thinking back on it was the "wrestling match".  As we all know, "boys will be boys", even if their age doesn't align with that.  I don't know how it came about, but I imagine it just started innocently enough.  Anyhow, somewhere along the way one summer dad and one of the "hands" got to bantering back and forth as to who was "tougher".  I think they were both getting encouragement from everyone, and one thing lead to another… which eventually lead to the "wrestling match", after work, out behind the machine shop.  I don't remember who won, (it seems to me that it may have been a draw), but I was old enough to know that it was all in fun, and the "old man" did prove that he could hang with the "young bucks".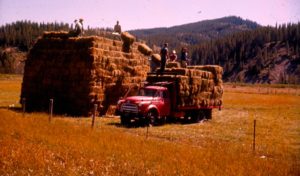 So, there you have it.  Some of my memories of Mom and Dad.  They are kind of random, and certainly more than the "1" that I was assigned, but hopefully they help bring some smiles and laughter as we celebrate their 8 decades and look forward to at least a couple more!